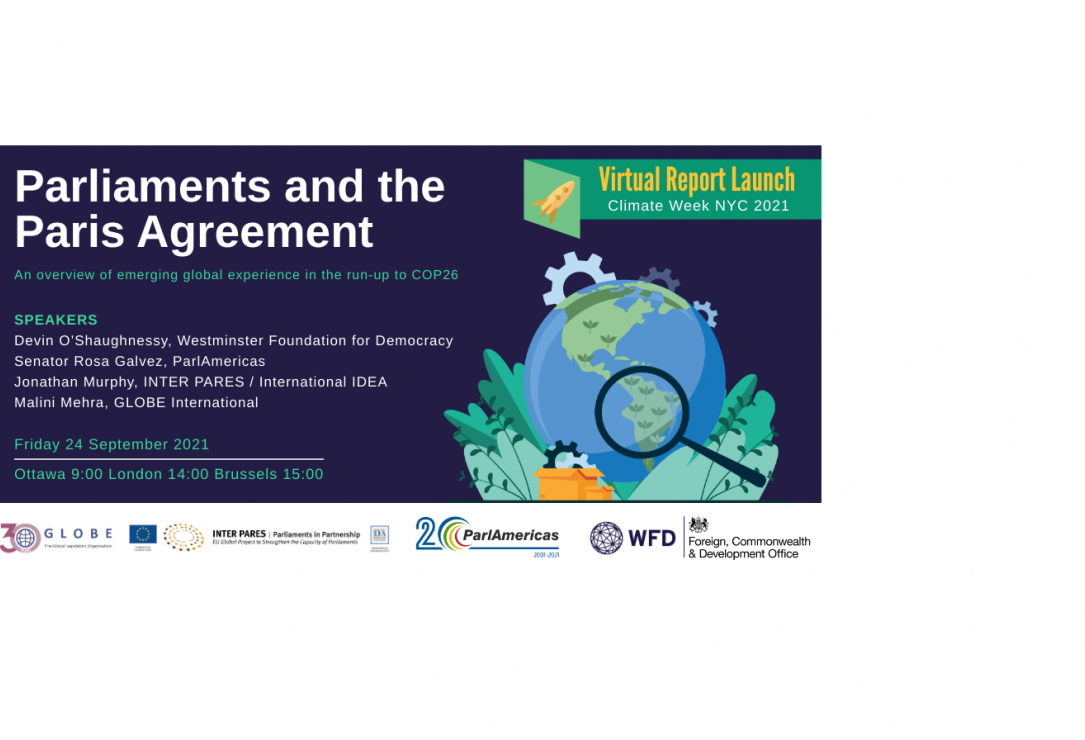 Zoom
'Parliaments And The Paris Agreement' - Virtual Report Launch
Past Event - 24 September 2021
'Parliaments and the Paris Agreement' Virtual Report Launch & Panel Discussion
Friday, 24 September, at 15:00 CEST (Brussels time)
Registration was closed on 23 September.
Join us for this first overview of how parliaments around the world have responded to the Paris Agreement. From climate change and net zero legislation to innovative scrutiny mechanisms, parliamentarians have responded to the climate emergency at multiple levels. As world leaders prepare to converge for COP26 in Glasgow, come and hear how parliaments have held them to account for promises made at Paris in 2015, and how they intend to raise ambition at COP26.
The report is a joint effort sponsored by the Westminster Foundation for Democracy and three leading parliamentary organisations ParlAmericas, GLOBE International and INTER PARES. 
Confirmed speakers: Devin O'Shaughnessy, Westminster Foundation for Democracy; Senator Rosa Galvez, ParlAmericas; Jonathan Murphy, INTER PARES/ International IDEA; Malini Mehra, GLOBE International.
Questions and queries: Mr Rafael Aybar at Rafael.JimenezAybar AT wfd.org
Zoom
'Parliaments And The Paris Agreement' - Virtual Report Launch
Subscribe