On Friday 12 November, WFD convened a panel to:  
Highlight the role of Parliaments to serve as major hubs for innovative action for clean energy climate empowerment and demonstrate the example of the UK Climate Assembly in generating and integrating citizens' views into policymaking as regards societal preferences for a zero-carbon energy mix.
Provide views on how to ensure that climate empowerment is placed at the heart of national action plans on climate as a delivery mechanism of the Paris Agreement and its 'ratchet mechanism'.
Showcase examples of environmental democracy worldwide driving climate action including the transition to clean energy.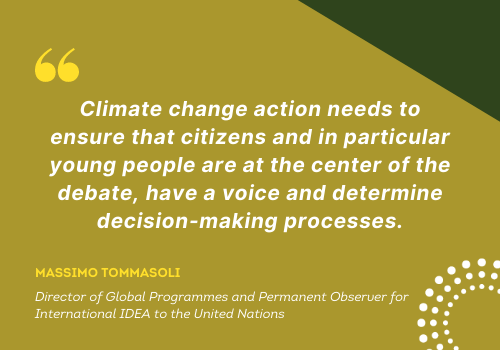 Massimo Tommasoli, from International IDEA participated. In his intervention, he highlighted:
The role of parliaments, and how they can protect future generations by defining structures such as the Belgian council for Sustainable development, the Finnish National Commission for Sustainable Development, or the Welsh future generation Commissioner.
The need for strong participatory approaches, only possible in democracies.
The need to link long-term thinking to crisis prevention.
The fact that parliaments are well suited for hosting and fostering this kind of debate because they reflect the diversity of societies, of opinions and interests.
The panel was organised in collaboration with the World Resources Institute (WRI), International IDEA, Climate Action Network (CAN), E3G and the Business, Energy and Industrial Strategy Committee (BEIS) of the UK House of Commons
More information on WFD's website.
More about INTER PARES work on: