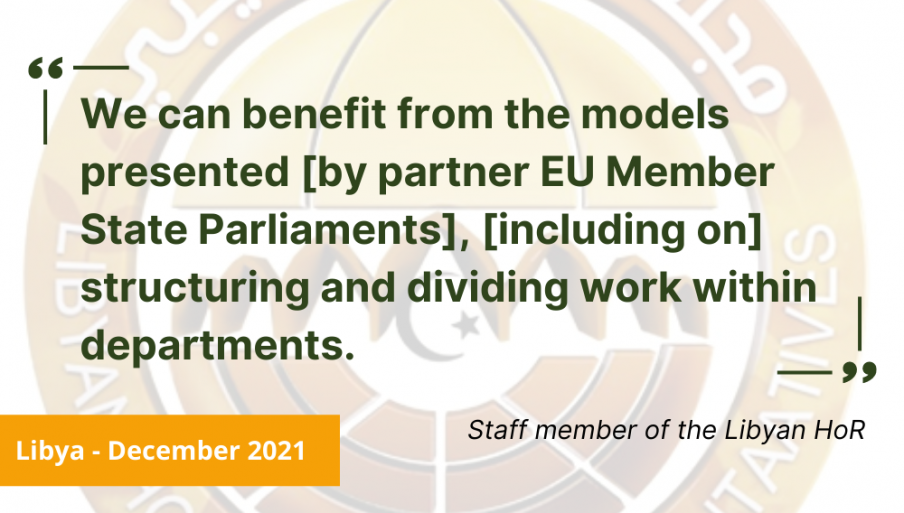 On 9 December 2021, research, legal and committee staff from the Libyan House of Representatives participated in a virtual workshop on parliamentary research and legislative support, in what kickstarted the INTER PARES partnership ahead of the December 24 Libyan elections.
The workshop allowed for lively exchanges and sharing of experience between participating staff members and experts from the Italian Chamber of Deputies, French Senate, Czech Parliamentary Institute and Hellenic Parliament.
The sessions included:
A comprehensive account of the history, operational management, and mandate of the Czech Parliamentary Institute;
Key information on the role, tools and structure used by the Italian Research Department when writing research papers;
A more legal-focused discussion led by the French Senate on comparative legislation methods and the mandate and scope of work of the Parliamentary Initiative Unit.
The Hellenic Parliament's Science Department provided relevant complementary information on the topics discussed, and participants were able to ask follow-up questions and share their own experience of parliamentary research and legal department and committee work.
Follow-up sessions should take place in the new year and address key topics for staff of the Libyan House of Representatives, which include parliamentary archives and committee work.