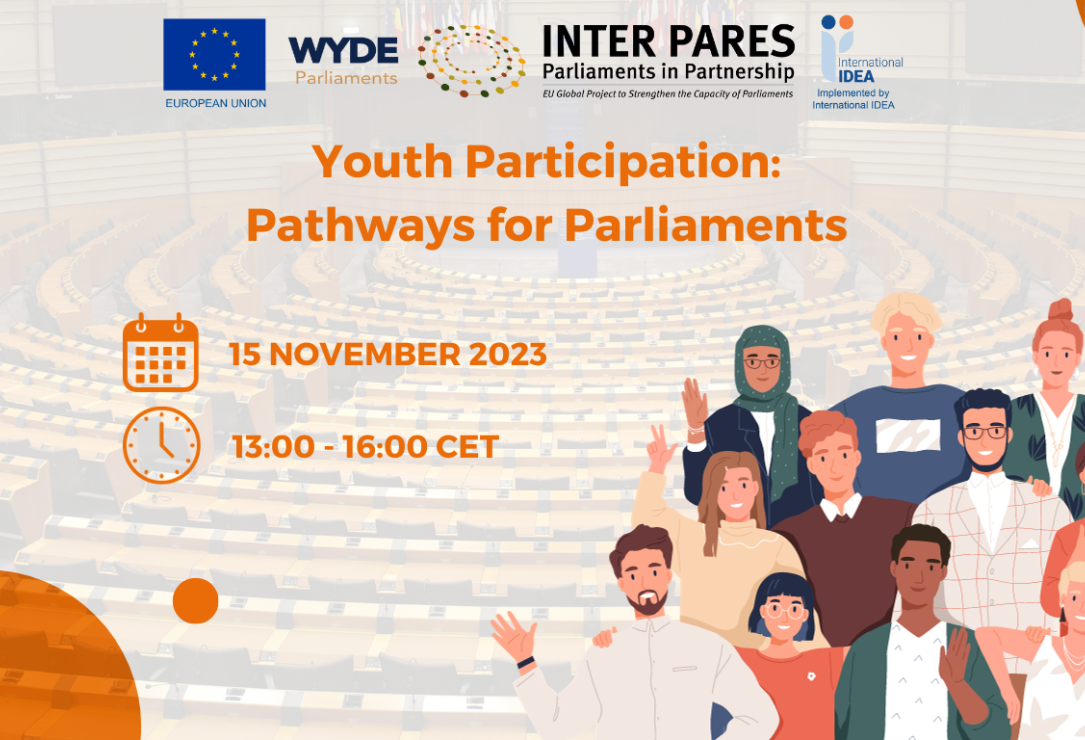 INTER PARES Youth Participation Workshop: Register now!
INTER PARES is pleased to announce its first online Youth Participation Workshop, taking place on Wednesday 15 November 2023 from 1pm - 4pm CET.  This workshop builds on the INTER PARES e-learning course and will be led by the author, Lotte Geunis.  
REGISTER HERE.
Please note that this is an interactive programme and active participation is expected. Participants are encouraged to take the course before joining the workshop. 
Practical details are outlined in the Frequently Asked Questions below.  In case of any further questions, please contact Lotte at l.geunis@idea.int. 
Frequently Asked Questions
Who can register? 
Priority will be given to parliamentary staff members from INTER PARES partner parliaments and EU Member State Parliaments. Others are welcome to apply, but will only be admitted if places are available once registration closes. 
How do I register? 
Please register by filling out this form. We will be in touch to either confirm your place or to let you know that you have been waitlisted. Please note that we will ask you to accept your place. If we do not hear from you, we will assign your place to someone on the waiting list. 
When should I register? 
Places are limited and will be awarded on a first-come, first-serve basis. Registration closes 8 November. If the course is oversubscribed, you will be waitlisted. 
I already took part in the INTER PARES Summer School, can I take part in this workshop? 
Yes, this is a new course and a new workshop. You are welcome to register! 
Can I participate if I didn't take the INTER PARES e-learning course?
The workshop is developed to build on the e-learning course. We strongly encourage you to take the online course before joining, to maximise your experience.
INTER PARES Youth Participation Workshop: Register now!
Subscribe