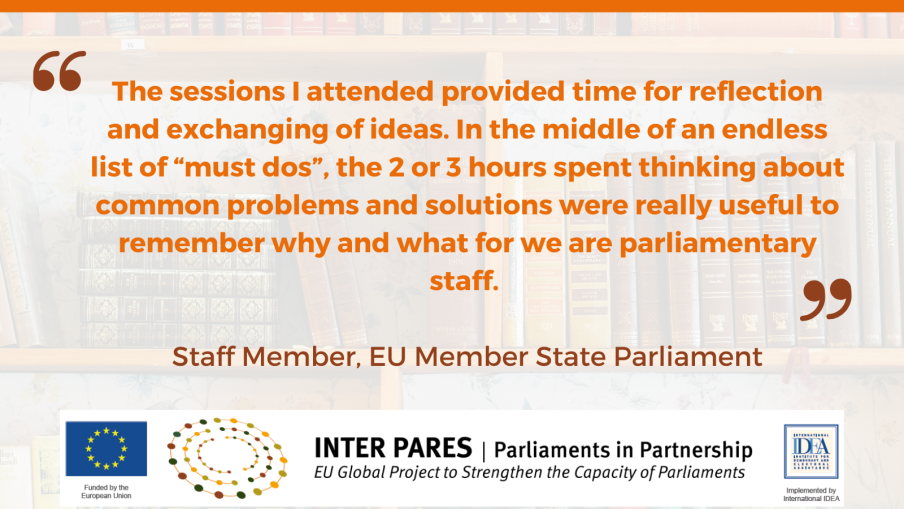 Following a successful pilot in 2022, INTER PARES is thrilled to open registrations for its 2023 Summer School. The Summer School will be conducted online and offer six workshops: 
Wednesday June 14, 13:00 – 16:00 CEST: Oversight, by Professor Olivier Rozenberg 
Thursday June 15, 13:00 – 16:00 CEST: Legislative drafting, by Professor Helen Xanthaki 
Wednesday June 21, 13:00 – 16:00 CEST: Comparative law-making, by Professor Nicola Lupo and Dr. Elena Griglio
Thursday June 22, 13:00 – 16:00 CEST: Representation, by Professor Cristina Leston-Bandeira 
Thursday June 29, 12.00-15.00 CEST: Parliamentary committees, by Dr. Tim Mickler 
Friday June 30, 13:00 – 16:00 CEST: Budgeting, by Dr. Kristen Heim  
Practical details are outlined in the Frequently Asked Questions below.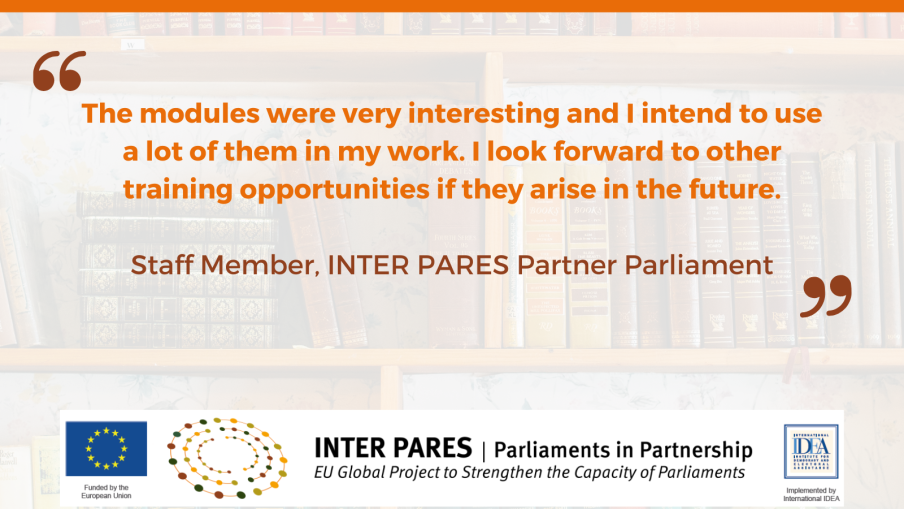 The programme is open to all staff of INTER PARES partner parliaments and EU Member State Parliaments.
Each workshop will build on a core course of the INTER PARES e-learning programme and will be led by the course author. We recommend registering for the full programme where possible, but you may register for one or more courses also. Participants are strongly encouraged to take the online course(s) before joining the workshop(s). 
Please note that this is an interactive programme and that active participation is expected. Similar opportunities will be made available in French and Spanish at a later stage. 
The deadline for registrations is 22 May 2023.
Frequently Asked Questions 
Who can register? 
Priority will be given to parliamentary staff members from INTER PARES partner parliaments and EU Member State Parliaments. Others are welcome to apply, but will only be admitted if places are available once registration closes. 
How do I register? 
Please register by filling out this form. We will be in touch to either confirm your place or to let you know you have been waitlisted. Please note that we will ask you to accept your place on the programme. If we do not hear from you, we will assign your place to someone on the waiting list. 
When should I register? 
Places are limited and will be awarded on a first-come, first-serve basis. Registration closes on 22 May. If your course(s) of choice is oversubscribed, you will be waitlisted. Final confirmation of your places will be shared by 1 June at the latest. 
I took part in the Summer School last year, can I take part again? 
No, this is a very similar programme to last year's Summer School and is therefore available for new participants only. 
Is participation in the INTER PARES Summer School free?
Yes, participation in the INTER PARES Summer School is free of charge.
Can I participate if I didn't take INTER PARES e-learning courses?
The Summer School courses are developed as levelling-up from the e-learning courses. We strongly encourage you to take the online course(s) before joining the workshop(s) to benefit as much as possible from the Summer School programme. 
Can I register now, and confirm participation later, as I am not sure yet that I can attend?
We strongly advise you to decide on your availability and participation before 22 May. Upon registration, the INTER PARES team will assume that your participation is guaranteed, if confirmed, and will take necessary organisational arrangements. 
In case of any further questions, please contact Yuliya Tymoshyk: y.tymoshyk@idea.int.