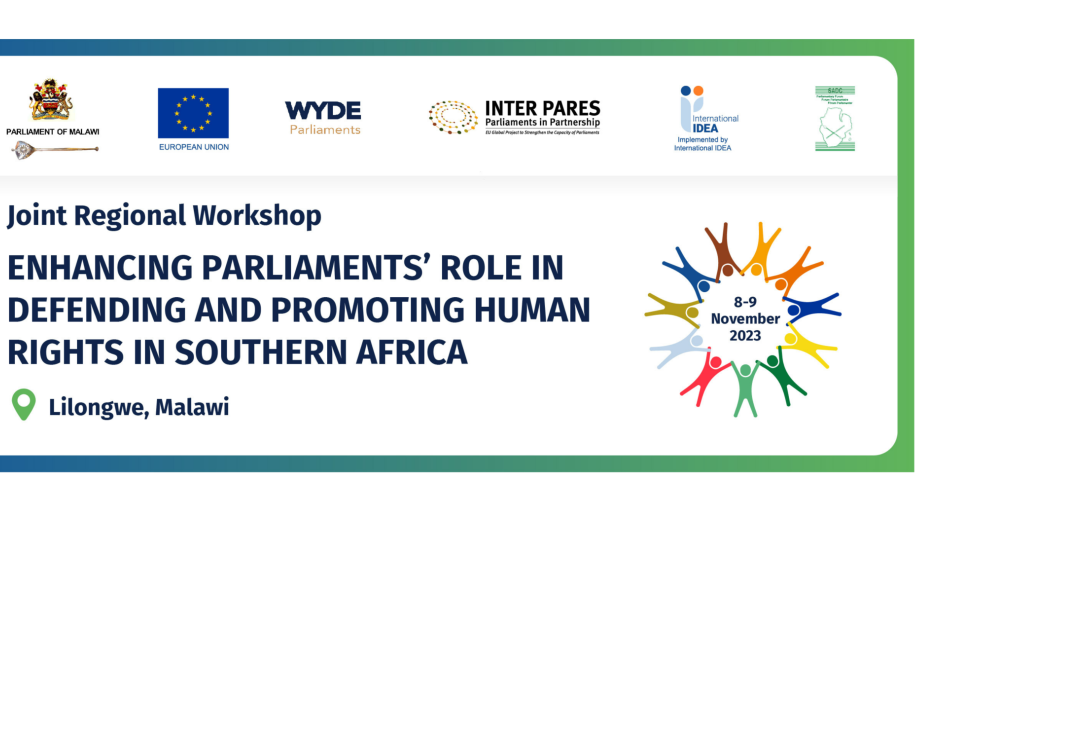 Registrations Open for the Joint Regional Workshop on Enhancing Parliaments' Role in Defending and Promoting Human Rights in Southern Africa
Parliaments play a central role in the promotion and protection of human rights. They are responsible for, inter alia, ratification of human rights treaties and adopting enabling legislation at the national level, ensuring that sufficient funds are provided for human rights implementation and overseeing governments' activities in the field. Parliaments also have significant potential to support the international human rights system and improve the implementation of internationally recognised standards at the domestic level.
The Southern African Development Community Parliamentary Forum (SADC PF) is an important actor in promoting the principles of human rights and and their significance in the work of parliaments in the region. Among many of its activities, the institution has recently developed the Guidelines for Parliaments in the Promotion and Protection of Human Rights in the SADC region, validated and approved in February 2023, paving the way for their subsequent dissemination and domestication.
The role of Parliaments in promoting and protecting human rights is a thematic priority for the International IDEA within its INTER PARES I Parliaments in Partnership programme, funded by the European Union. In September 2022, the programme launched a Toolkit on Effective Human Rights Engagement for Parliamentary Bodies, which brings together international best practices on enhancing the role of parliaments in advancing human rights. INTER PARES will be soon complementing the Toolkit with an online course on parliaments and human rights which will be hosted at the AGORA Portal for Parliamentary Development.
In order to strengthen networks on parliamentary development and inter-parliamentary cooperation in human rights field, INTER PARES and SADC PF are organizing a Joint Regional Workshop on Enhancing Parliament's Role in Defending and Promoting Human Rights in Southern Africa. 
The Joint Workshop will take place on 8-9 November 2023 in Lilongwe, Malawi. It is a hybrid event and will gather the members of the SADC PF Standing Committee on Democratisation, Governance and Human Rights as well as Members of the EU Member States Parliaments and renowned experts of the field. The workshop aims to:
Enhance the knowledge of parliaments on innovative developments in parliamentary engagements with human rights protection and promotion by facilitating mutual learning between the national parliaments of EU Member States and SADC PF.
Introduce the mentioned knowledge materials in the field and create a platform for Parliamentarians to share practical examples of good practices across the regions for learning and benchmarking.
The Joint Regional Workshop is organized by INTER PARES in cooperation with the SADC PF, and hosted by the Parliament of Malawi. 
The workshop is a hybrid event and you are welcome to join online. Register for the workshop here.
Find the draft agenda here.
Registrations Open for the Joint Regional Workshop on Enhancing Parliaments' Role in Defending and Promoting Human Rights in Southern Africa
Subscribe