"The way of organizing training is commendable, it would be desirable to organize them more often." Participant comment
On March 10, 2022, 21 staff from the Montenegrin Parliament and two from the Austrian Parliament met online to explore budget oversight in Austria, the Austrian Parliament's role, and the role of the Parliamentary Budget Office.  This workshop was the first activity under the INTER PARES partnership with the Parliament of Montenegro and EUMSP partners regarding Priority 1: Strengthening the oversight function of the Parliament. The event consisted of a presentation by the Head of the Austrian PBO, Mr. Helmut Berger, and was divided into three parts.  A lively question and answer session followed each part of the presentation.  The activity was appreciated, and participants responding to an exit survey reported high satisfaction, high levels of knowledge gained from the exchange.   
The session first described the fiscal governance framework in Austria, and the Role of Parliament in the Austrian Budget Process.  The presentation described how and when the National Council discusses, amends, and approves the budget within the country's MTEF and annual budget cycle. Questions and answers revolved around the timing of budget submission and Parliament's response, and the role of committees and what reports committees receive.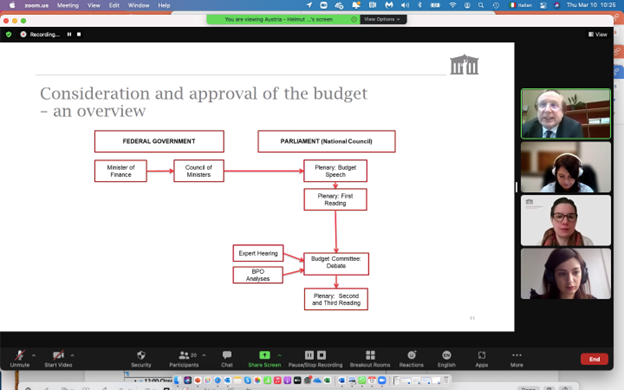 In the second session, Dr. Berger described Austria's Fiscal Framework and how the Federal Organic Budget Act (2013) enhanced fiscal governance by Parliament. New results-oriented management and performance budgeting, requiring budget-managing authorities (line ministries, supreme bodies)  to present outcome objectives,  mandatory gender objectives, activities, and targets have driven more strategic, objective-oriented discussions in Parliament.  The outcome objectives in the budget chapters were increasingly interlinked with the SDGs. The new budgeting framework has promoted transparency and accountability, improved Parliamentary oversight, encouraged more ambitious goals and performance, and resource efficiency.  It has also improved communication with the public on budgeting. Questions and answers regarded who prepares impact statements and if committee sessions are open (they are).
In the final session, Mr. Berger presented how and why the PBO was established, and its purpose as an independent office with high-quality expertise, which is required to ensure transparency, submitting reports to all political parties and online. With limited staff the PBO supplements capacity through staff exchanges with other institutions. Mr. Berger shared examples of the PBO catalog of products and services and demonstrated the Austrian Parliament's online budget draft and execution dashboard. Overall, 92% of participants responding to a questionnaire stated they were satisfied with the event and that their knowledge increased.