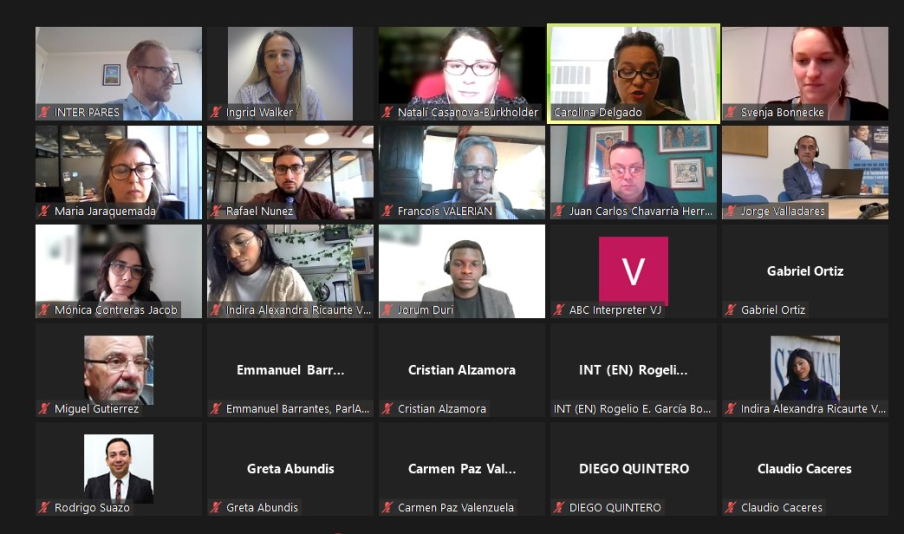 On 20 July, INTER PARES jointly hosted a seminar on parliamentary oversight with the Strengthening Accountability Networks among Civil Society (SANCUS) project of International Transparency, and ParlAmericas. The seminar, called "Accountability and the Legislature: The role of civil society in parliamentary transparency" brought together representatives of parliaments, researchers, and civil society organisations (CSO) to discuss challenges related to parliamentary oversight in the context of Latin America, as well as the importance of engagement and dialogue between CSOs and Parliaments.
The activity was structured around two perspectives: that of parliaments, and that of CSOs. First to present were two speakers from parliaments: Carolina Delgado, Deputy of the Legislative Assembly of Costa Rica and of the ParlAmericas Board, and Elena Griglio, Senior Parliamentary Official of the Italian Senate. They spoke of different initiatives to make parliaments more transparent, and the ways citizens can participate in decision-making and accountability.
Following on from them were three presentations from members of CSOs to discuss ways of exercising accountability over legislators. Jorge Valladares of Transparency International highlighted deliberative democracy, pre-, and post-legislative scrutiny, monitoring lobbying, and adopting an Open Parliament Agenda as ways civil society can take part in parliamentary oversight and strengthen accountability systems in Latin America. Indira Ricaurte of Transparencia por Colombia spoke of her chapter's experiences of legislative monitoring and engagement with parliament. And finally, Jorum Duri, Research Coordinator on Horizontal Accountability at Transparency International, presented different parliamentary oversight assessment tools and indicators.
Oversight is one of the key functions that INTER PARES looks to strengthen through its peer-to-peer partnerships with parliaments, and citizen engagement and civil society is one of the cross-cutting themes that it strengthens in activities like this seminar.