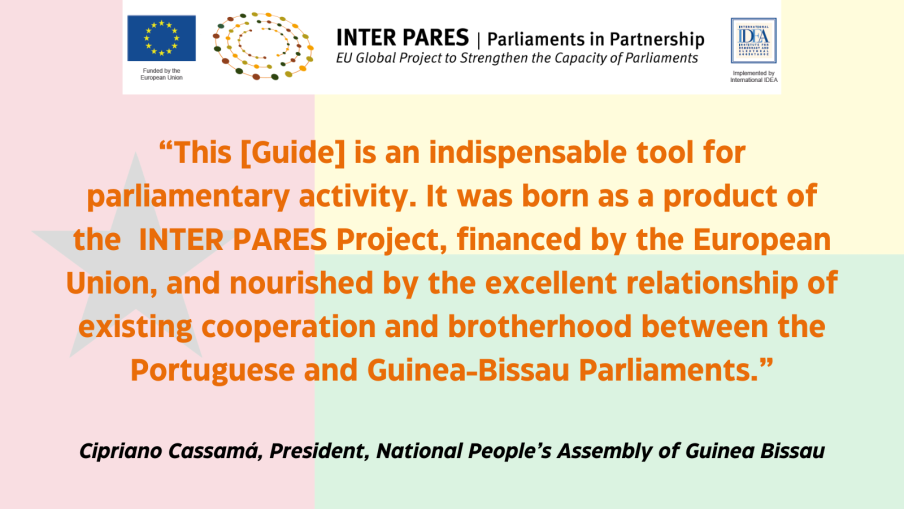 The Guide to the Functioning of Parliamentary Committees is designed to help members and staff of the Parliament of Guinea Bissau to undertake oversight and legislative scrutiny. The Guide was jointly developed by the Assembleia Nacional Popular of Guinea Bissau and the Assembleia da República of Portugal through the INTER PARES | Parliaments in Partnership – EU Global Project to Strengthen the Capacity of Parliaments project.
Recognizing the fundamental role that parliamentary committees carry out to make sure that laws work and are being administered in an effective, efficient, and economical manner, this Guide aims to inform and support the Assembleia Nacional Popular (ANP) members and staff about how to perform committee oversight and legislative functions to the full extent allowed within the country's constitutional and legal framework.  Specifically, the Guide aims to:
improve the environment in which parliamentary oversight takes place
build the ANP's institutional capacity for oversight
reinforce political will among parliamentarians to carry out oversight activities
provide suggestions, templates, tools, and sample documents to support committees in their efforts to perform oversight and legislative scrutiny
increase the effectiveness of parliamentary oversight
The Guide is didactic, practical and proactive.  It explains how committees function according to the existing rules and practices in Guinea Bissau, while also offering suggestions to enhance procedures and providing over 35, tools, templates, and sample documents to improve Committee practices.  The five chapters of the Guide cover:
an introduction to parliamentary oversight in the 21st century
the role of parliamentary committees, their current set-up and functioning in the ANP, and six sections that include suggestions to enhance committee functions
committee oversight mechanisms available and how to use or improve on them
the role of committees in the legislative process – with an emphasis on legislative scrutiny and how professional staff analysis and committee reports support scrutiny
processes of public financial management and accounting – the General State Budget, National Development Plan and General State Account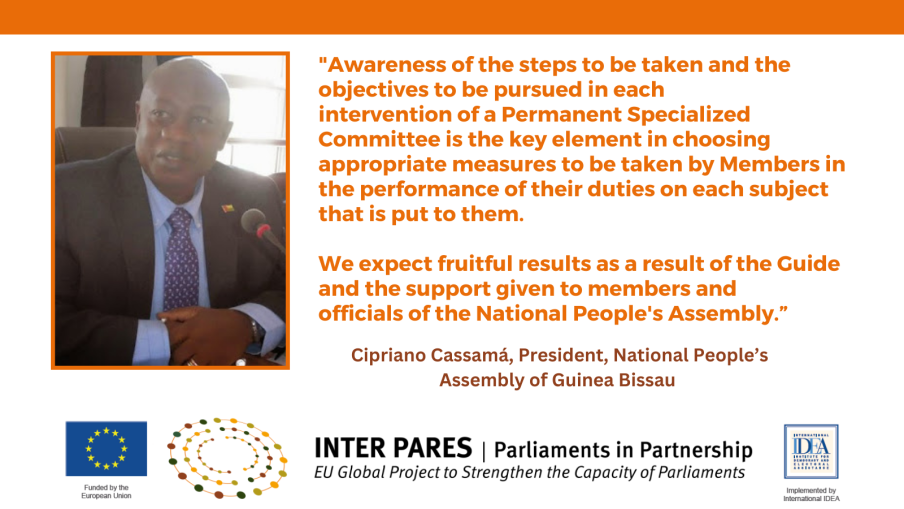 The Guide was designed to provide theoretical, legal, but above all practical support for committees. It includes more than 36 templates, model forms, sample documents and tools that were developed and included as Annexes to the Guide.  Each chapter ends with a one-page summary listing suggestions, templates, and sample documents that Committees and staff can use to carry out their functions more easily. 
The guide is available in Portuguese HERE.