Bhutan
Priority 1
Enhancing legislative and oversight capacities of the Parliament
Priority 2
Strengthening the professional capacity of the Secretariat
Priority 3
Enhancing Parliamentary communications and dialogue capacities.
EU Member States Parliaments
EU Member States Parliaments
Denmark
Greece
Hungary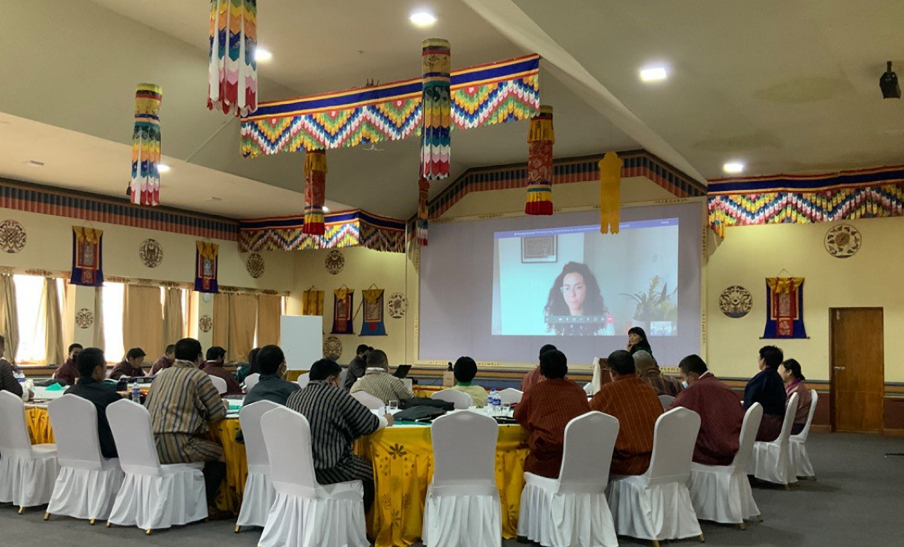 Update: Workshop on Gender Scrutiny of Legislation, Policy and Budget (March-April 2021)
41 Members of Parliament and parliamentary staff of the National Assembly and National Council of Bhutan participated in two consecutive 3-day workshops on Gender Scrutiny of Legislation, Policy and Budget, taking place between 29-31 March and 6-8 April 2021, as part of the INTER PARES Partnership with the Parliament of Bhutan. The workshop was co-organised with the Bhutan Network for Empowering Women, which acts as the Secretariat of the Bhutan Women's Parliamentary Caucus. The Danish Institute for Parties and Democracy also contributed to the workshop.
More information at https://www.inter-pares.eu/news/bhutan-workshop-gender-scrutiny
Priority 1
Enhancing legislative and oversight capacities of the Parliament
Ensure the presence and effective use of institutional structures and procedures that enable Parliamentary committees to efficiently contribute to the legislative process, public policymaking and scrutiny of the executive.
Establish a functional system for the incorporation of amendments into adopted legislation, the creation of an official e-gazette, and the maintenance of an electronically accessible consolidated body of national legislation.
Introduce a word-processing add-on to facilitate consistent and accurate drafting and editing of legislative texts. 
Strengthen MPs' leadership, and MP and staff analytical capacity to review laws and policies and draft legislation and amendments, that abide by international standards, including focus on the following thematic areas: gender equality and the political participation of women in the public sphere, environmental challenges and human rights.
Priority 2
Strengthening the professional capacity of the Secretariat
Ensure Parliamentary and research staff have the technical knowledge and the professional capacity to manage Parliamentary committees and assist MPs in drafting and reviewing legislation, in monitoring and evaluating policy, analysing the budget and conducting qualitative and impartial research and analysis.
Priority 3
Enhancing Parliamentary communications and dialogue capacities, including e-Parliament initiatives
To become more open, accessible and accountable, and enable efficient interaction between different Parliamentary departments, ministries and local agencies through the development of E-Parliament ICT tools in line with contemporary international best practices, moving towards a paperless legislative process.
To strengthen the capacity of the Parliament media and IT teams to effectively engage with citizens, civil society and the media through the development of easily accessible digital platforms for information and dialogue.
To develop MPs' knowledge and usage skills of ICT tools available to support their Parliamentary work in a participatory and inclusive environment, and to effectively engage with their constituents. 
To develop the Parliamentary staff's knowledge and skills to manage the ICT tools available for engagement and information and support MPs in their E-Parliament activities.